Reading Time: 4 minutes
Webmaster Guidelines are a set of documents that set out what you should and should not be doing as a website owner or marketer. Google's guidelines have enjoyed some serious press coverage over the years and while Bing's may not yet be as extensive, their new guidelines already offer a useful insight into what they look for when building their own search results pages.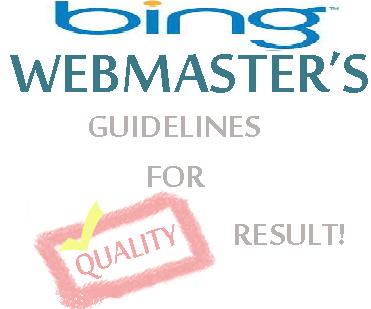 Google And SEO
It has long been known that Google has a begrudging and reluctant acceptance of SEO. They have become more open in recent years and head of the Web Spam team has even said that they do not believe search optimisation to be a form of spam. However, they have also published numerous warnings about over optimising a website and the penalties that one could occur for doing so.
They appreciate good SEO, the type that encourages high quality content and natural link building. However, they are less than accepting of techniques like paid linking because they believe these to be a method of gaming the algorithm system.
Bing's New Webmaster Guidelines
Bing have always remained relatively tight lipped when it comes to their own opinion on such matters. They have a lot less in the way of search resources than Google but they have very recently launched their own Webmaster Guidelines. They may not be as extensive as Google's own collection of Webmaster Guideline documents but, nevertheless, they do still contain some useful insights for marketers, bloggers, and website owners.
Good Quality Content
Bing have said that plenty of good quality, original content is vital to good search engine performance. They further stated that thin, poor quality content is not conducive to good performance. They said that an intelligent link building campaign is an important part of running a website but, of particular note, was their take on both SEO and paid linking.
Bing's Take On SEO
SEO is described by Bing as being a "valid practice" but they, like Google, go on to warn about taking optimisation practices to extremes and abusing optimisation techniques. They also say that performing SEO on a website does not guarantee success within the search rankings. They do, however, list a number of practices that they consider to be good and those that webmasters should avoid. Here are some of the highlights, or you can view the full list by visiting the Bing Webmaster Guidelines page.
Title and Meta Description tags, alt and H1 tags should be used on each of your pages.
Use links internally to improve navigation and only use a reasonable number of links to direct to other sites that you trust.
They recommend enabling social sharing buttons; social is a topic that you will see crop up often in the Bing guidelines.
Use sitemaps, clean navigation and sensible URL structuring.
Within Bing Webmaster tools you should use the Crawl Control feature to set busy publishing periods. You can also use these tools to set which links should be ignored on the pages of your site.
Fetch as Bingbot to ensure that Bing is able to properly crawl all of your website pages.
Bad SEO
When it comes to bad SEO practice, Bing advise avoiding cloaking, social media schemes, meta refresh redirects, and duplicate content.
Linking
Linking is, of course, a major factor in the success or otherwise of your SEO campaign and Bing has given some direct information on linking too. Primarily they advise against link schemes including link farms and three way linking schemes but we further advise steering clear of anything that might be considered a linking scheme.
Paid Links And Why Search Engines Loathe Them
Google has been on a purge of paid links in the past couple of years. They now inform webmasters that, if they sell links, those links should be nofollow and they have become very accurate at being able to detect what are and what are not paid links. The reason for this action is that the search engines use links as a vote of editorial confidence. If another site willingly provides a link to a page of your site it means that they believe your page offers genuine quality content and is worthy of promotion. If you buy a link this is no longer the case.
Bing's View
Bing, apparently, has a similar view to that of Google. They say "abuses to this [system of using links as a judge of quality] such as buying links or participating in link schemes (link farms etc.) lead to the value of such links being deprecated." They have also pointed out that search engines are very good at spotting patterns (it is kind of what they do, after all) and if they notice links appearing for a month before disappearing only to be replaced by another link for a similar period then they will quickly learn that those are paid links.
How To Approach Paid Links
Paid links do offer value to a website and if a particular link provides you with direct traffic then it should be considered worthwhile. However, don't attempt to use paid link schemes as a means to build your search engine link profile because you face the very real possibility of at least having those links devalued by both Google and Bing.
Quality Search Results
The search engines attempt to display a list of the best quality and most relevant websites to their users. In order to do this they consider hundreds of factors regarding your website, its content, and even your personal online profile and social indicators. Bing's release of their Webmaster Guidelines has been some time coming but there is some useful information to be gathered now that they have finally arrived.
Matt Jackson owns and runs www.EthicalLinkBuilding.co.uk providing a range of high quality and highly efficient link building and content writing services. If you are also interested writing for us ,please check our Guest Blogging Guidelines at write for us