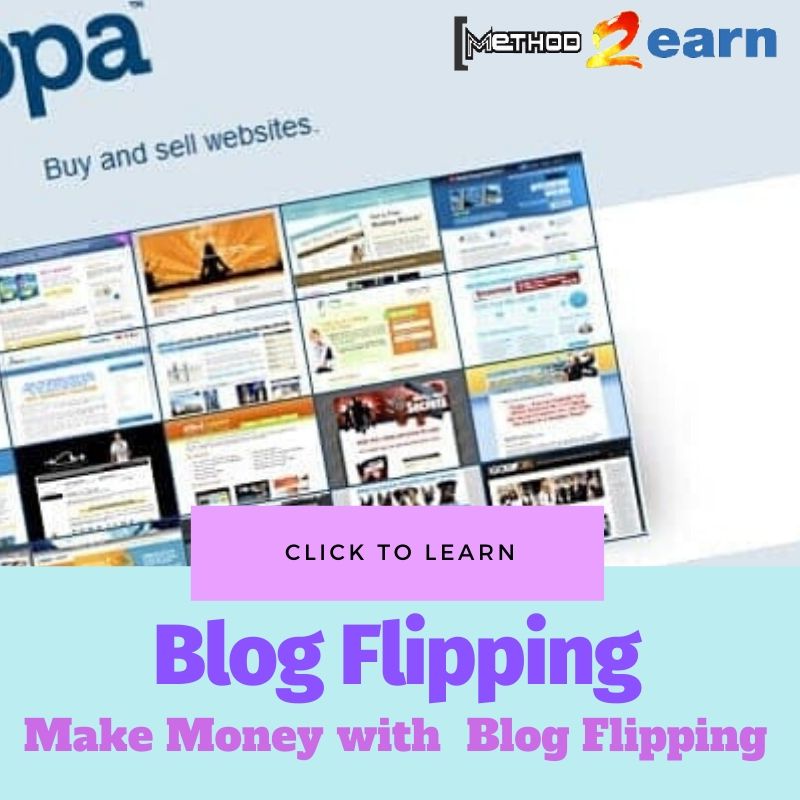 Reading Time: 8 minutes
Read on to learn how to make money online with blog flipping and/or website selling….
Of the several popular strategies to make money online, blog flipping or website selling are becoming very popular. Wondering, what blog flipping is? Read on….
Blog flipping or website selling is a popular means of making millions online provided it is done the right way. Blog flipping is however not for everyone.
Only people with knowledge of web marketing, SEO and content writing can make money using this technique.
Blog flipping or website selling simply refers to buying and selling of blogs or domains or websites. You have to buy a specific blog at a low rate and then sell it at a high rate and earn profits.
Sounds simple enough!!! But hold on, this is not an easy as it seems.
When wanting to make money online with blog flipping, you need to consider several factors.
You need to create a blog that is of value in the eyes of the buyer. If you can create a blog that has consistent incoming traffic and is a hit with niche audience, you can get paid highly for it.
You need to have certain skills to create an effective blog. Determination, patience, desire, ability to create and learn new things happens to be a few skills.
You need to create a blog with compelling content. In addition, you need to spend enough time to promote the blog.
So, if you think you have the necessary skills, you are ready to earn money online with blog flipping. First things first, you need to know the two simple ways of blog flipping or website selling.

#1 Develop, Build and Flip the Blog or Website
Sounds easy……Well, here you need to create the blog or website on your own. So, you need to put in a lot of effort to create a compelling blog or website. This is a time consuming process and also needs a lot of hard work from you.
Since you are creating the blog or website, you need to undertake the following steps:
Choose the idea of the blog/ website and the niche audience. You need to think of an idea around which you need to develop the blog/ website and its content.
It is necessary for you to know about your niche or target audience. When you know of your audience, you can develop the content that clicks with them. This in turn assures you of consistent incoming traffic to the blog/ website.
Buy brand new domain and hosting. Domain name is the online address where your blog/ website will live. You need to buy this from reliable hosting companies.
Refrain from using existing domain names as these may not attract as much traffic as desired. Try and choose an appropriate hosting package for your blog/ website so that you do not face issues later.
When choosing a domain name, keep in mind the following:
Don't choose a name that is too long or cumbersome to remember.
Choose a name that is easy to remember and unique.
Avoid using domain names that have hyphens or numbers.
Try domain names that have .com address.
For blogging, WordPress happens to be the best platform. This is the most popularly used platform where blogs can be posted, edited and shared. WordPress with thousands of users is a great way of showing your blog to a large niche audience.
Always create an attractive design for the blog/website. Remember, an attractive design creates a great visual impression in the minds of audiences. Choose a theme for the blog or website that complements the content. Make the blog or website easy to read and navigate.
Publish content. Also remember the golden rule- Content is the king. Create unique and engaging content for the blog or website. You can hire a freelance content writer or do it on your own.
Give the audience something new to read in the blog/website. Make sure that your content does not repeat the same information that is already available on some other blog. If this is done, your blog will not be able to attract traffic.
You need to make sure that the quality of the content needs to be very good. This will help your blog or website to get higher rankings in search engines.
Do search engine optimization of your content. Make sure that the blog or website has enough images. Internal and external links must be provided.
Once the blog has been created, you need to promote it for at least 6-7 months. This will ensure that your blog/website is a success. Now, you can sell your blog. The blog can be sold using any of the platforms available on the internet.
#2 Buy, Rebuild and Sell the Blog/Website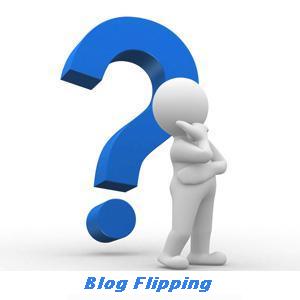 You do not want to create a blog on your own but want to earn money by blog flipping. This method would work for you. What you need to do is to buy a blog or a website which is already running. Now, bring about changes in the blog/ website i.e. revamp it. And then simply sell it.
This sounds easier than the first method of creating and selling a blog. Well, easier said than done!!! When you buy a blog/ website from someone, consider the following:
Make sure that the blog/ website is at least 6 months old.
The blog/ website must not be penalized especially by Google Panda.
The blog/ website must get at least 200 unique visitors every day.
Check the earnings of the blog or the website. Ensure that the buying price justifies the profits that the blog/ website will help you earn.
Analyse Google Analytics for the blog/website to know who views or visits the blog/website.
Now that you have purchased a blog/website that meets the above criteria, you need to rebuild it. Revamping a blog/website means you need to makeover the blog or website. Rebuilding a website/blog needs at least 6 months. To revamp a blog/website, you can do the following:
You can change the design and the layout of the blog or the website so as to make it more attractive. The theme and the images used can be changed. You can add more attractive images that are bound to get the attention of the audience.
Analyse your audience, the niche as well as the keywords and content. If essential optimise the content to be search engine friendly. You can also prepare SEO report to highlight areas that need working upon.
Choose to go in for link building so that the blog/ website has as many links as possible. This is essential because a higher number of links means higher ranking.
Create brand awareness. For this you need to share your blog on social media. For websites, you need to promote them as much as possible across the various platforms. This is essential to increase the traffic on the blog/ website.
Rebuilding a blog/ website is essential to make it more user-friendly. Now, that the blog/ website has been revamped you can sell it. For selling the website or blog, you can choose any of the various platforms available on the internet.
These networks or platforms act like agents or brokers and undertake the process of buying/selling the website or blog. These networks also earn a commission for this task. A few of the reliable platforms that you can make use of for blog flipping or website selling include: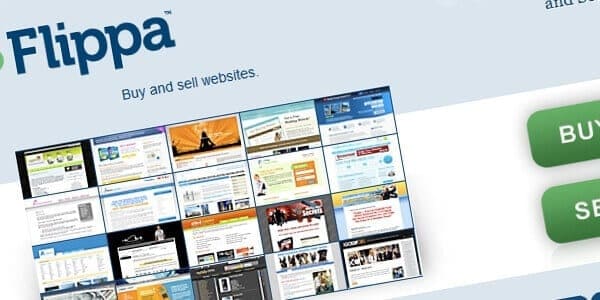 Another option is to announce the sale of the blog or website on social media networks. In this case, you have more chances of getting better offers from buyers.
Now, the question is why blog flipping when there are so many other ways of making money online. Blog flipping or website selling offers the following benefits:
It is a very simple process. You do not need to have special skills or equipment to do blog flipping. What you need is a laptop, an internet connection and a creative mind.
It is a flexible working option. You can work as much as you want or as little as you want. It is you who decides how much you want to earn and work accordingly.
There are no restrictions in terms of what you want to do with your blog. It is not mandatory for you to sell your blog. You can sell it only if you feel the need or cannot add anything new to it.
With this technique, you can improve blogging skills. For blog flipping, you will need to constantly create new content and practice promotion. This will help you to develop social media skills as well.
Internet marketing skills can be learnt using this technique. When you create a blog to flip, you will need to maintain a record of income and also the blog. This will in turn enable you to get better at blog monetisation like page building and copywriting.
Blog flipping breaks down a monotonous routine of working with the same blog. When you are creating blogs for flipping, you work on a wide range of subjects. This makes the work interesting and you do not feel bored.
Blog flipping has great potential in the coming time. With this technique, you can increase the value of your blog and earn a good steady income for a long term in the coming time.
So, you want to start blog flipping to make money online. Here are a few helpful tips you can follow:
Research about the niche and choose it wisely.
Always be honest about the statistics of the blog you are selling.
Choose blogs that have several income sources. For instance, choose blogs that have affiliate income associated with them.
Keep your blog active. Always do at least one thing with your blog every day; be it social media update or writing a copy for an ad.
Develop a sense of balance. You need to know when to sell the blog and when to keep it. You will not want to sell a blog that is giving profits to you and is getting constant traffic.
Have patience and work your way through step by step. You will eventually gain experience by flipping blogs and be able to earn higher profits.
Enjoy the work, stay inspired and excited so as to earn as much as possible.
When you want to make money online using blog flipping or website selling, remember these do's and don'ts:
Do optimise the website and blog listing. Provide a clear description of these.
Create attention grabbing and professional view of the blog or the website.
Don't use a complicated domain name. If the site already has a complicated domain name, change it.
Pay attention to the design of the blog/ website. Ensure that the design is simple and clean but at the same time has enough of visuals. For the design, do not use bland colours. Use images and content that keep the readers engaged.
Choose websites and blogs that have room for improvement. When you buy a blog for blog flipping, make sure you can make it better. An already established site or blog is difficult to revamp.
Don't gamble with your time, money and resources. If you are to create the blog or website for selling, use your time and money in an optimal manner. If you are buying a blog or website for selling, make sure that the right one is bought else money, time and efforts would go wasted.
Don't rush. Blog flipping is a great way of making money online but it takes time. You need to stay calm and work on it before you can start earning.
Do know your competition and develop your strategy accordingly. You must carry out an analysis of how your competitors are doing. This will keep you inspired to do well.
Blog flipping as a buying and selling strategy can help you make money online only if you do it with due diligence. You need to overcome the risks involved in blog flipping or website selling to earn good profits.