Reading Time: 4 minutes
It's hard to accept, but promoting a website is a lot more difficult than it was a few year back. Since a substantial amount of money and effort is required to adopt modern internet marketing trends, every other internet marketer is searching for the secret to success. Content, in combination with the effectual usage of targeted keywords, continues to be the king.
However, one of the core values that can definitely take you one step further is "Test everything; presume nothing." That is because after all these years of IM development, you never know what angle or strategy is going to work miracles for you.
It is not easy to stay on top of the most recent website promotion trends nowadays. However, testing the latest strategies early gives you a head start in driving mega-targeted traffic to your website. In a nutshell, testing is the most effective way to find out what works and what doesn't.  You need to take the plunge and utilize some of the following tests provided that you want to boost your sales exponentially.
5 top tips to get you on top, get more traffic and sale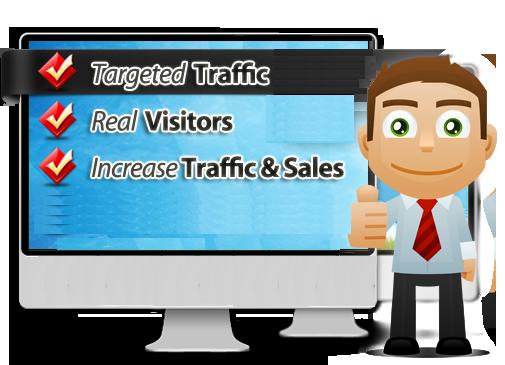 1. Blogging
Using a blog is undoubtedly the leading web promotion tactic for driving targeted traffic to a website. It allows your visitors to be constantly aware of your ideas, thoughts and plans regarding your business, product, or services. Do you know that most search engines, including Google, usually rank blogs higher than business websites? This is because of the original content that is added consistently. The selective, targeted keywords help blogs further in raking higher in search engine results. They give your business the exposure it needs and substantially escalate the flow of targeted traffic.
When sharing content on your blog, it is vital to ensure you provide information that your visitors will consider valuable, e.g. business advice, resources, secrets, reviews and product information. Worthwhile content not only attracts customers, but also helps retaining them. Moreover, offering helpful information might cause other bloggers linking their blogs to your blog, which is an amazing web promotion technique since it drives additional visitors from their blogs. This will not only enhance your exposure, but also your ranking. Customer loyalty on top of trust will definitely help build your customer base and develop your website.
2. Repositioning opt-in offers
Your opt-in offer is undoubtedly a significant tool for gathering customers' email addresses, which enables you to build your email list. Keeping in touch with your customers and building a relationship of trust with them is incredibly important in order to sell them your products/services. Have you ever noticed that the proper appearance of your opt-in offer on the website have a considerable impact on the number of subscribers you attract?
If you do not want to use a lengthy sales letter, try putting your opt-in offer in a prominent position on the home page of your website. Normally, it is the top left side of the page where users' eyes are drawn first. In any case, test positioning your opt-in on top of your homepage – the area first visible to the users before they scroll down.
On the other hand, if you have a lengthy sales letter, test placing the offer within the second page of text. You have already grabbed your customers' attention, identified their problem and established credibility through testimonials, experience and credentials. This is where you need to add your opt-in offer. You can also place it on every page of your website in order to give more opportunities to the visitors to subscribe.
3. Including RSS Feeds
An RSS (Really Simple Syndication) feed is an important attribute to add to your blog as well as website. RSS feeds collect and send important information to the subscribers. It allows you to expand your odds of getting your blog content to the news media. A resourceful, well-written blog with suitable commentary depicts your credibility and competence in your field of business. Including an RSS feed is an essential web promotion strategy.
Also, following up with your existing consumers is vital. In fact, research has shown that about 30% of consumers will buy the products again if they are given an opening. It will help you develop long-term, profitable relationship with your customers, and it also enables you to recommend backend products to your consumers related to their original purchases.
4. Social Bookmarking
Bookmarking technology has developed over time in terms of features as well as performance. Having your blog and website bookmarked results in targeted traffic and therefore potential sales. However, there are very few people who try to persuade their visitors/customers to bookmark their website. There are countless software-packages available that allow your consumers bookmark your site without much effort. All you need is to provide your customers a link to click for bookmarking.
Adding a "Bookmark this Page" button is highly recommended since it is the most convenient option for the potential customers. Use Pop-ups to remind the visitors to bookmark the website as they are leaving. Does it sound arduous? Your effort is worth the additional targeted traffic you might gain.
5. Text Link Marketing
Links to other valuable websites offering similar products/services is also an effective web promotion trend. Since linking has been used for a long time and is a prevalent SEO tactic to drive targeted traffic to a website, numerous businesses utilize text link marketing to boost their site raking in search results.
You can easily obtain links from auction sites, where you have to bid for what you need. You can also get it via brokerage, where you buy and sell links. Links can also be interchanged with other relevant websites.
The internet is a frequently changing marketing place. The superior you are at implementing new web promotion tools and ideas, the more money you can make with your products. Therefore, you are advised to understand all you can about the aforementioned trends, since it is the only way to harvest the benefits of targeted traffic to your website and life-long customers.
Jones Booth is a writer on a broad range of internet marketing topics including traffic generation trends, social networking predictions, what it takes to successfully be part of an SEO reseller program, and much more besides.