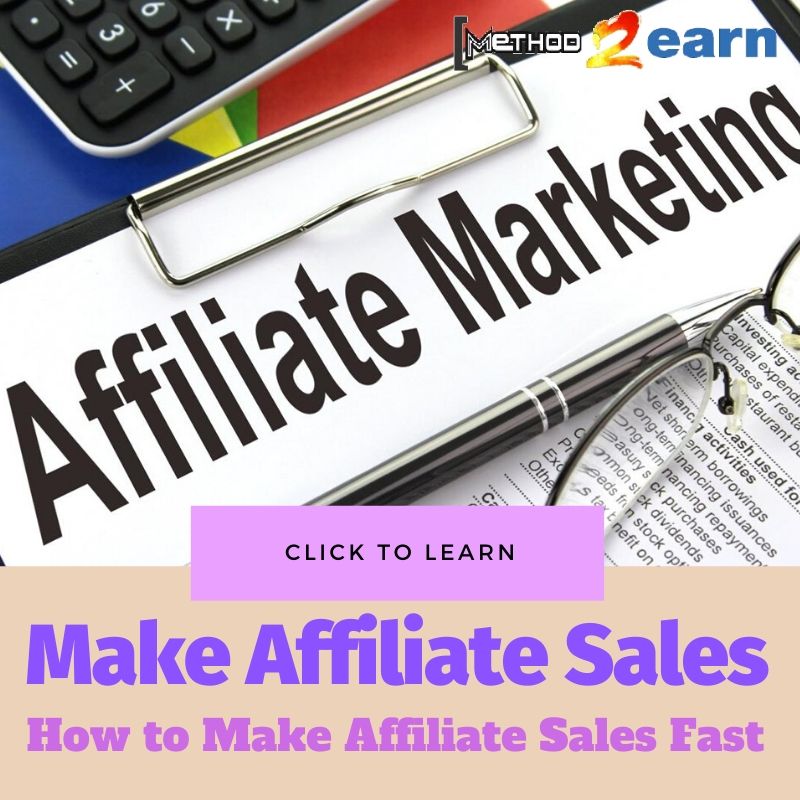 Reading Time: 8 minutes
When it comes to affiliate marketing, everyone wants to affiliate sales quick and easy. But then again not many of us have the knowledge to do so.
In fact, many of us also do not know in detail what affiliate marketing and affiliate sales are. So, read on to know what affiliate marketing is?
Affiliate marketing happens to be the most profitable way in which money can be earned online. Affiliate marketing is a form of digital marketing.
In this form of marketing, you refer someone to an online product. Now, when the person buys the product, you will earn a commission. Simple!!!By using this form of marketing, you can easily earn a decent income online.
Working of affiliate marketing is also very simple. You just need to follow these steps:
Join an affiliate marketing program: There are several programs that are available online. You can join any program by simply giving a username and required details.
Pick a product to promote: You next need to choose a product that you want to promote based on preferences and choices. For this, you need to know the affiliate link of the product and use it.
Share the link: For promoting the product, the affiliate link needs to be shared on social media. You can make use of Facebook, Blogs, YouTube videos to post ads about the product. Now when someone clicks on the link and buys the product, you earn a handsome commission.
There are many ways in which affiliate marketing can be started to make sales. Some of these ways include:
Starting a blog to promote products.
Create YouTube channel to promote products.
Creating a mini website and an email list for the same.
Buy traffic from Facebook and drive it to the landing pages of products.
Now that you know what affiliate marketing is, read on to find out how affiliate sales can be made in a quick and easy manner.
15 Easy Ways to Make Your 1st Affiliate Sales
#1 Creation of Sales Funnel to Convert the Visitors into Buyers
You have a website and several visitors on it. Now, to increase affiliate sales, you need to convert these visits into sales. For this, it is essential for you to create a sales funnel.
The following are ways of creating a successful sales funnel:
Create awareness: You need to create awareness about the products you promote. For this, it is necessary to give the audience a clear picture about the product.
Building connection: You need to connect with your audience and not treat them like buyers. You must stay in touch with our audience through blog comments or social media posts.
Never force: To make affiliate sales fast and easy, remember a golden rule- never force. You must recommend the products to the audience. The audience must be told why they must purchase the products and not be coerced into buying them.
#2 Offer Incentives to Audiences
Before selling to the audience, ask yourself, "What's in it for them?" You need to find out why the audience must buy from you or products you recommend. People buy products only if they find value in it.
To make affiliate sales fast and easy, offer incentives to audience. For example, you may offer free services like installation of a plug-in when audience clicks on your affiliate link.
#3 Promote a Maximum of Two Products
Always promote one or two products to increase affiliate sales. It is essential you choose the right products to promote. Always think that it is you who is going to use the products before promoting them.
This will enable you to educate the audience with the right information.
#4 Increase Conversion Rates and Not Website Traffic
The right approach to make affiliate sales fast and easy is to increase the conversion rates. It is no use getting 100 visitors on the website and not making any sales.
Analysis of current website analytics can help you to know if the website is making enough sales or not. The analysis can also help to know if there are bottlenecks associated with affiliate marketing strategies.
You can make use of the A/B Testing strategy or split testing. This is a technique to increase the conversion rate of a website. This test helps to know which product or action gets more clicks on the website. Once it is known which product gets more click, its promotion can be improved. This in turn will help in making affiliate sales quick and easy.
#5 Improve SEO
Search Engine Optimization of SEO is essential to increase affiliate sales quick and easy. People who come from search engines to your products are likely to be converted to buyers. You can choose tools like SEMrush to increase the sales.
It is essential for you to also know the keywords being used by your competitors. You can use these keywords to improve traffic to your affiliate products.
Guest blogging can also help to increase the sales. This is because guest blogs help to build quality links that are the best way to improve SEO of any website.
#6 Read Product Reviews from Top Sites
Since affiliate marketing requires you to write reviews for products, you must do so in the right manner.
Before writing a product review or recommending it, read reviews from top sites. This will give you an idea on how to write the reviews in the right manner.
Reading reviews from top sites help you to know what content is essentially to be included. It also helps you to write persuasive reviews and blogs. This will also help you to write genuine reviews that can help to make affiliate sales quick and easy.
#7 Create Landing Pages
To make affiliate sales quick and easy, it is essential to make your website clutter free. The website must not be messy and contain unwanted elements.
You must remove distraction from your website and create landing pages. It is not necessary for the website to have fancy elements that increase the loading time of the site. Any elements that slow down the speed and lower performance of website must be avoided.
Unique landing pages created for websites and affiliate products help in promoting a product with minimal distraction.
#8 Build Trust
Remember, people buy from those they trust. So, to make affiliate sales quick and easy, build trust. To do so, show testimonials from real people on the website.
When you make use of an affiliate link, mention the same. It is no point hiding the fact that you are using affiliate links to sell and promote products.
In fact disclosing the fact that you use affiliate links is beneficial for you. This is because if the people like the products you are promoting, they will buy from you only thereby increasing your sales.
#9 Using Paid Ads
You can use social media for paid advertising. This will help to make affiliate sales quick and easy.
Facebook is a powerful platform that can be used to increase affiliate sales. Twitter is the second largest platform that can be used for increasing affiliate sales using paid ads.
LinkedIn and Instagram can also be used the same way to reach to a wider audience and increase affiliate sales.
#10 Go in for Different Affiliate Networks
If one affiliate network does not work, you can try some other affiliate network. There are several affiliate networks that are available on the internet. If one program does not work for you, it does not mean that all are the same. There is some network that will help you make affiliate sales easy and quick.
#11 Use Content Marketing
Use content marketing to promote products the right way. Using content marketing enables you to educate the audience with the right information.
Following are a few ways in which you can use content when using content marketing for making affiliate sales:
Create content that helps the audience to know how the products that are promoted can be used.
Always right honest product reviews. The reviews must be detailed ones and enable the audience to know the pros and cons and features of the products.
Creating e-books or workbooks and other content that talks about the products you promote. This increases curiosity related to the product and hence leads to an increase in the product sales.
#12 Email List
Creating an email list helps to make affiliate sales quick and easy. When you have a long list of targeted audience, you are likely to increase the sales.
When you are sending emails to the target audience, do not send only promotional emails. Rather, you must also send value added emails.
Remember, email list helps to get high rate on investment but it takes time but is not an easy task.
#13 Using Text Ads
It is essential for you to include text ads across relevant pages of the website. This is because text ads can provide relevant information about the product.
Text ads are able to get the attention of people who read the content thoroughly. These readers would most likely click on these ads and be converted to buyers.
#14 Add Visuals and Images
Pictures work wonders!!! When you are promoting a product or writing a review, you must make sure to add attractive images or visuals. The images or visuals must however be related to the products you promote.
You can also add videos to tell how the products are used. The videos must be short and cover all basic elements of what, how, when and where of a product. It is not recommended to create an hour long video as the audience gets bored. A short engaging video can do the trick.
#15 Improve Blog Design
To make affiliate sales quick and easy, it is essential for you to make audience stick to your blog. If you make use of a blog to promote products, make sure the design of the blog is attractive.
Only great content cannot help to increase affiliate sales. It is essential for you to create an appealing design of the blog to make more profits.
To make affiliate sales quick and easy, it is also essential for you to know the art of selling. Talking of which, it is not rocket science but simply entails understanding the audience you are selling to.
When promoting products, always focus on benefits and not features alone. Remember, people buy products for the benefits they provide. Generally speaking, most people do not bother about the features as long as the product offers benefits.
Always listen to the audience. It is essential to know what the readers and customers have to say about the product. This is necessary because you cannot make sales without their trust or help.
Before promoting the product, try it yourself. Once you use the product, you will know its pros and cons. Remember, promote the product only when you are completely satisfied and know that that audience will like it.
Try and help people and not sell products. In other words, write correct reviews of the products so that customers can be helped. Always write genuine reviews and promote products you would use on a personal front. This way, you will be able to make more sales.
Give the customers what they are looking for. Customers or readers always want solutions to their problems. You can make more sales if your affiliate program provides the solutions to the problems customers face.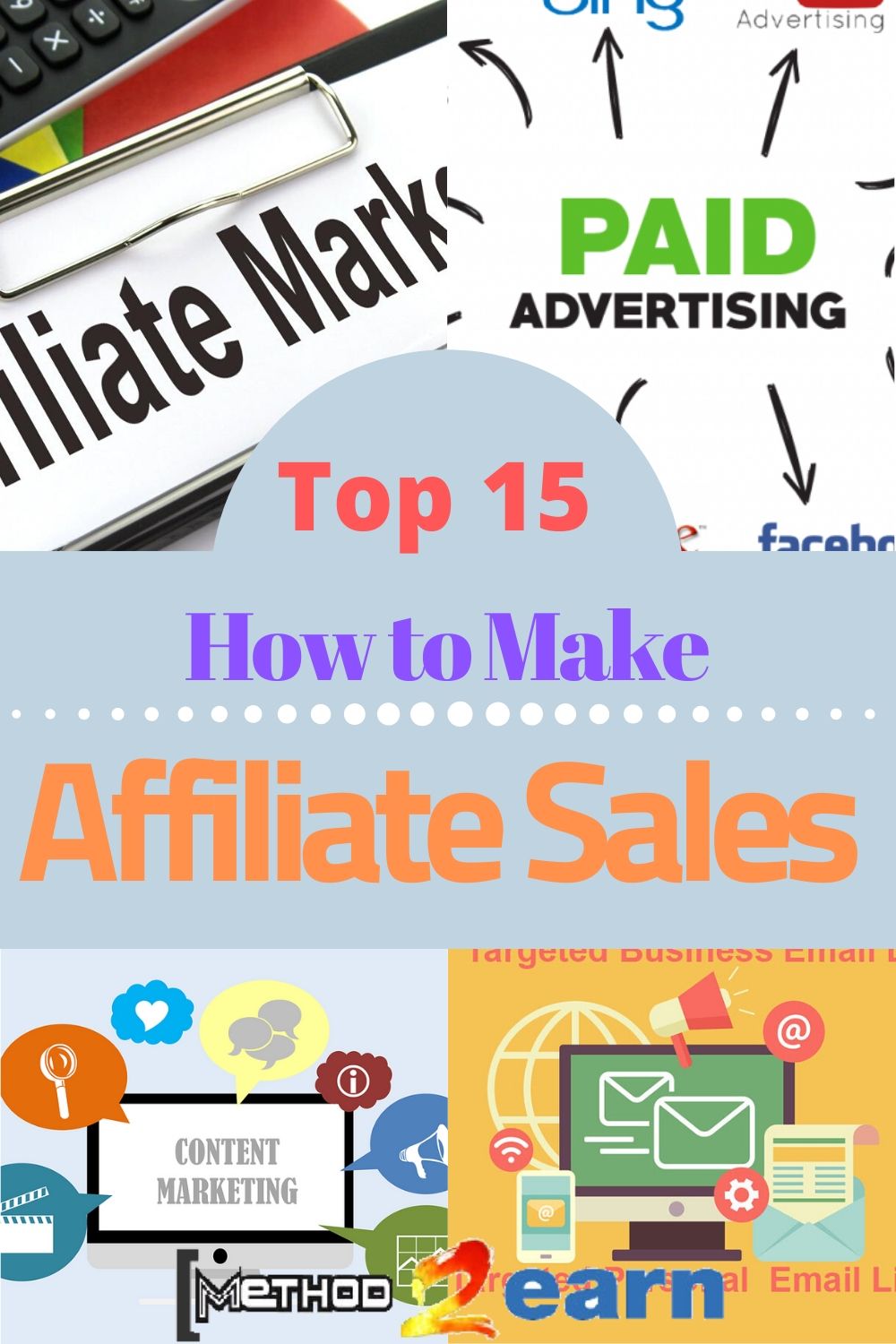 When you want to make affiliate sales quick and easy, find answers to the following questions:
Why should someone buy from me: What is the need?
Is the product too costly? Are there any price barriers?
What is the urgency of buying the product? Can something be given for free to attract the customers?
What is that one element that increases curiosity of audience to buy from me?
Do the customers trust me to buy from me? Do I have a social proof to boost the sales?
If you can come up with correct answers for the questions, your affiliate sales journey can be a cakewalk.