Reading Time: 5 minutes
Once you set up your own WordPress website, put some impressive and catchy content on it, you would definitely want to earn some bucks through advertisement. Affiliate marketing is a good way to earn from your WordPress website. It can help you to earn from a few dollars a week to up to many dollars per day. For beginners affiliate marketing involves putting commercial ad banners on your website. Whenever a visitor clicks on the ad and buys and item, you get a certain portion of commission from the sale. For example you sold an item of apparel through your website that costs $50. You may get a commission of, say 10% i.e., $5. Of course higher the value of item sold through your website, higher will be your commission.
In order to make your affiliate marketing program work, you need lots of visitors to your website. You need to draw attention of people to your pages by putting up creative and impressive content. If your website turn up in the top 10 search results of Google, there will be a great chance that a random person will looking for a topic will visit your website and do some shopping. To increase that chance you need to incorporate some Search Engine Optimization techniques in your WordPress website. This will make sure your website appears in results to someone looking for a relevant topic, and at the same time make sure your website ranks high as per search engine rankings. EasyWpSEO Plugin will make these things a lot easier for you and this is what we will explain below.
Why EasyWpSEO Plugin?
EasyWpSEO Plugin can help you optimize your WordPress website for many search engines in a lot better way than any other SEO plugin out there. If you want to improve the ranking of your pages it will prove to be a real help. Here's why EasyWp SEO is better than other SEO plugin:
Keyword Density plays a major role in SEO. Accurate keyword density calculation is therefore of utmost importance for any successful SEO plugins. While other plugins fail to accurately calculate the keyword density when you use a keyphrase comprising of more than one word, EasyWpSEO will accurately calculate the keyword density, no matter how many words you plan to include in your keyphrase. Of course you wouldn't want to end up getting your page blocked by having a whopping 10% or more keyword density. So it is wise to use EasyWpSEO Plugin instead of others.
EasyWpSEO Analysis the entire HTML content – When crawling through your website, the search engines do not just look through the content of your post, or the article you just wrote; instead the go through the entire HTML page including the headers, footers, sidebars, menus and other items. So other SEO plugins do not stand a chance here. Whereas EasyWpSEO would view and analyse your entire webpage just the way your viewers and search engines does.
How to use EasyWpSEO Plugin?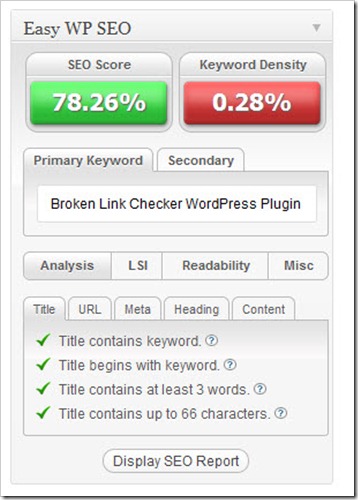 On page SEO still pay one of the major roles in search engine ranking systems including that of Google, Yahoo and Bing. So here's how to setup EasyWpSEO plugin on your WordPress affiliate website and configure some of the basic settings.
The first step would be of course purchasing the plugin. So you will need to spend $37 for purchasing the EasyWpSEO plugin. Once you purchase it you will be provided with a license code and a link to download the EasyWpSEO plugin. Setup the plugin and go to Settings to enter the license information to get registered and activated.
EasyWpSEO can help you automatically while you're writing content for your website. It can perform the following automation tasks for you if you wish:
Automatically bolding and italicizing of your keywords
Automatically underlining your keywords
Automatically add keyword to the alt text of the images used on the page
Automatically add nofollow to all hyperlinks. Useful if you include a lot of links to your pages.
Open external links to new window or new tabs. This is useful to improve the bounce rate of your website.
No matter whatever automation features you use, just remember that your main target should be creating quality material that no one else provides. So you should focus on your content more and once you're well aware of these techniques you can perform these tasks by yourself easily.
Under the miscellaneous settings menu you will be able to configure all the SEO factors that you wish to utilize. You can set the keyword density, you wish to use, in terms of percentages. 1% to 4% is recommended.
Under the "EasyWpSEO Keyword formula", you'll be able to choose from the two formulas. The second option is recommended because it accurately calculates the keyword even when you use multiple words as keywords i.e., keyphrase.
 Other Settings usually do not need to be changed. However you may like going through them.
 If you have a Copyscape license you can also add that information so that it automatically checks your typed content for duplication.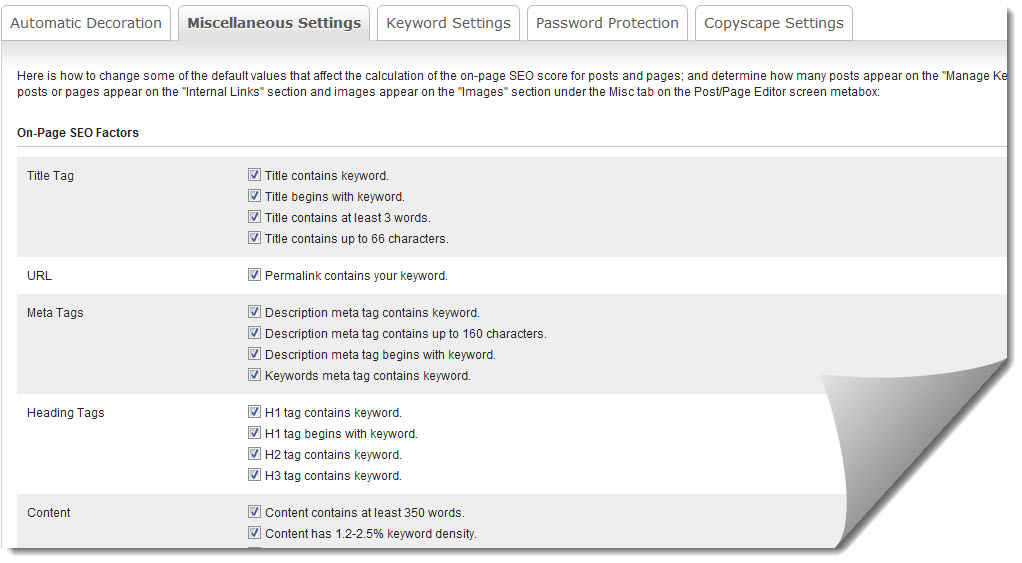 Here is a video overview of EasyWpSEO WordPress Plugin:
httpv://www.youtube.com/watch?v=LvOyhNw6_rE
Other Things to Remember (for Beginners)
If you are a beginner, you should just begin with writing your creative and unique content. Make sure you utilize all available writing and formatting styles such as paragraphs; pictures; heading levels H1, H2, H3 and so on; lists and itemization's ; tables etc. Once you are done writing your content, you should add your keyword in the "EasyWpSEO" tab of the plugin and click on the "Save Draft". This will show you your current keyword density and SEO score. You should focus on getting a SEO score ranging from 60%-80% and a keyword density in between 1%-3%. EasyWpSEO will also give you recommendation about what you have failed to do so you can easy follow up.
Another feature that you may like to use is the LSI Keyword. Available in the "LSI" tab, it suggests words that may be used in your current article. It is highly recommended to use this feature as it will boost your search engine score. However you'll need to choose words carefully and add value to your content without compromising on the quality.
So these were some of the basic guidelines that will help you get started with optimizing your WordPress affiliate website for search engines. Once you master these little techniques, your website will get hits by random visitors and you will have more chance with your affiliate marketing program. Good luck with that!