Reading Time: 3 minutes
Affiliate Marketing has emerged as a great way in the modern times to make money online. You promote a product or service on your blog or website and using an affiliate link, send the potential customers to the site of the vendor. If the visitor makes a purchase, you get a commission. There is no limit to the amount you can earn. One can either opt to promote goods with higher retail price and get a higher commission or opt for less valuable goods that sell more.
The very first thing that you would need to do is set up a blog or website, select the product to promote and get the affiliate link before marketing your site and getting the traffic. SEO or Search Engine Optimization is an important part when it comes to online marketing. Studies reveal that higher the link of your site appears in a search, more are the chances of a person visiting the same. SEO helps in optimizing the pages in accordance to the searched terms, getting a better search engine ranking and driving the traffic in turn. A number of free tools are available in the modern times and can help you in the process. A few of these include
Seo Tools for Affiliate Marketers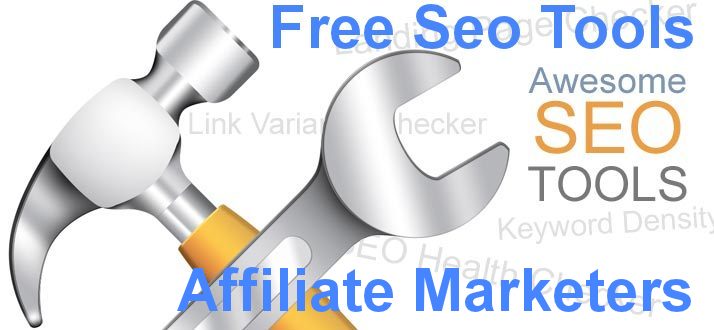 AdWords Keyword Tool
A free tool offered by Google, it can help you in not only getting an idea of the keywords that are being searched more than others but also being to your notice a number of related alternatives as well. You are not required to pay anything and can look for number of searches of a particular keyword across the globe as well as in a particular area as per your requirements. The numbers are generally not exact; however, the details provided are enough to care out your keyword related strategy.
SEO Site Tools – On Site Suggestions and Analysis
While you are into affiliate marketing, having a look at the strategy and rankings of the competitor is always a good idea and there are free tools that provide the related details. You can check the page rank, Meta Description, SEO Title, Alexa ranking, SEOmoz domain and page authority, incoming links and a range of other SEO related information. The tools are available in the form of extensions and can be installed in a matter of a few seconds. The name; however, is different for different web browsers, while they all perform the same function.
Google Chrome: SEO Site Tools
Firefox: SEOmoz toolbar
Safari and Opera: SEOquake
SEO Books
For those who do not really like the idea of installing extensions on the web browser, there is a website – seobooks.com, which offers all the related functions. All you need to do is create an account with them and get access to a number of different SEO tools including
Keyword list generator
Meta tag generator
Server header checker
Spider test tool
Link suggestion tool
Keyword density analyzer
Page comparison tool (aids in finding keywords)
Type generator (Proposes the common typos of the keywords)
Authority Labs
Keeping a track of the keywords and their ranking is vital for any SEO campaign and Authority Labs is simply the best tool for the same. You can sign up with them and enjoy a 30-day free trial period. Just enter the domain name along with the keywords and it would provide all the related details. After the 30-day trial period, you can continue with free membership, which allows you to track one domain and 10 keywords.
Blogging
While a few of you might not consider it as a tool, blogging is perhaps one of the most important one when it comes to online marketing. Search engines love blogs and this is the same reason why they are able to attract a huge volume of traffic. All you need to do is add fresh and unique content in a timely manner along with a few other SEO tricks and a link to your affiliate website.
Bookmarking
A powerful tool that allows you to index the articles and blogs and generate targeted visitors. There are a number of different bookmarking services and all you need to do is submit information and updates related to the blog or article. Socialmarker is one such free tool that takes care of bookmarking stuff for you.
Commenting
One of the favorite for most affiliate marketers, commenting not only leads to steady traffic but also plays an important role in backlinking. A simple search on a search engine can provide you with a list of blogs and forums related to the product you are marketing. Just visit those and place a comment along with a link to your affiliate site.
Other than these RSS and pinging are other free SEO tools that are a perfect aide for affiliate marketers.