Reading Time: 4 minutes
Advertising and marketing has evolved in the last few years in a very impressive manner. Social networks like Facebook and Twitter which were initially only used for social interactions of the users have now undergone numerous changes and turned into the large social media network where users exchange interactive dialogue not just about their social lives but also about the consumer market and corporate world as a whole. According to some studies, consumers spend up to and even more than 6 hours on the social networking websites. Moreover, about 93% of the businesses worldwide use social networks for marketing purposes. This has led the social networks to become the mainstream media for advertising and marketing. And as we know, where there's a business there's money, we wouldn't want to lose our share from this pile of cash hidden behind the social networks. Twitter is the way to go! Twitter is one of the most famous social networks around the world with over 500 million active users as of April 2012. In this article we will tell you how you can make some online money using with sponsored tweets.
How Sponsored Tweets Work?
Sponsored Tweets is the earning opportunity for active Twitter users where they can sell their tweets to the sponsors for advertising. This means you get money for posting ads through your Twitter account. You can also set price for your one tweet. Basically you can make a good amount between $1-500 for posting one sponsored tweet. You will need to post an ad like the following through your Twitter account:
Easy Ways to Make Money on Pinterest  https://t.co/ZgUmJChp
If you tweet an ad like this it will be shown in the timeline of all of your followers, and that's what the marketers are paying you for. This has proved to be a great advertising concept and it has turned Twitter into a micro-blogging platform where people with active and complete profiles can earn money advertising from their accounts.
Can I Earn Money from the Sponsored Tweets?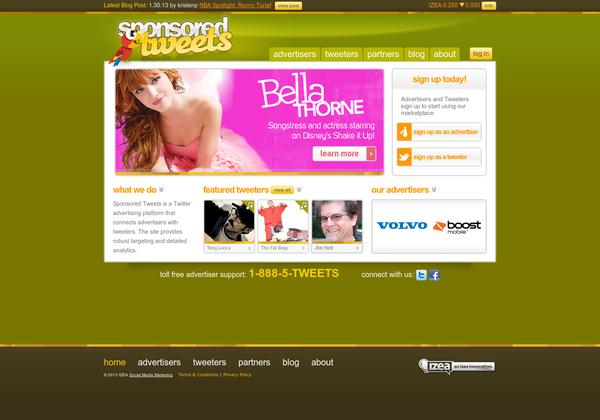 This is an important question before we begin monetizing our twitter profiles. Understand this – when advertisers pay you to tweet their ads, they would want the ad to be viewed by a wide audience, therefore you will need to have a good number of Twitter followers and a complete profile if you are willing to earn money through Twitter. Once you have a good follower count, you need to sign up with a website like SponsoredTweets.com. SponsoredTweets.com is a web service where advertisers and tweeters meet. Advertisers will be looking for active and famous tweeters and people like us will quote a price per tweet of our account.
Here, you must keep in mind that the responsive following is very important to your success with this online money making opportunity. If a good percentage of your followers closely read your tweets and click on the links provided therein, you have a chance for success. Some sponsors and advertisers make sure you have a very good Follower Activation Rate (FAR), for example, if you have FAR score of 10, it means all of your followers are responsive. This will give you an upper hand over other Twitter users and you can charge more for your sponsored tweets.
In order to accomplish at earning money using Sponsored Tweets, you need to follow some rules and guidelines that are discussed below.
The Best Way to Make Money Using Sponsored Tweets
Increase your Follower Count –
The minimum requirement to qualify to post the sponsored tweets in 100 followers. So make sure you have a decent number of following in your account. No matter how many followers you have, you should always focus on increasing your follower count. A good way to increase your following is to post good things about your Twitter account on Facebook and other social networking websites where you are more active. You may even want to post about Twitter on your blog. Remember: more followers more opportunities& so more money.
Tweet Relevant Stuff –
Another important thing is to post sponsored tweets relevant to your followers' interests, motives and your twitter profile. For instance, if your followers are interested in your tweets about the Rock & Roll music, you should consider posting ads of new music bands and albums that are available for posting. That way your sponsored tweets will have more attention of your followers.
Get Your Sponsored Tweets re-tweeted –
You should also consider asking your retweets of your sponsored tweets. This will help you in increasing your FAR score and higher FAR score will give you the chance to charge more money from your advertisers. In turn, also consider retweeting your friends' sponsored tweets. Then ask them to do the same. This will easily help you.
Promote Your Twitter Account –
As mentioned earlier, you need to constantly keep increasing your follower count in order to be truly successful with this business. So consider promoting your twitter account everywhere you possibly can including your own website, blog or Facebook account.
I hope the above mentioned tips will help the starters have a basic grasp about how to make money online using Sponsored Tweets. The best thing about it is you don't need to spend countless hours and computer or worry about not being able to finish your task. This isn't rocket science. You just need to have a good Twitter profile and then sign up with sponsoredtweets.com to get started. I don't think earning money online can get any simpler than that. Happy tweeting!