Reading Time: 4 minutes
Email marketing is a basic, straightforward process that has been used very effectively by hundreds of thousands of online sellers and entrepreneurs, both large and small.
The essential process consists of establishing a niche content or product/service website that offers a free product to visitors who opt in with their email address, promoting the site through affiliate partnerships, advertising, free publicity and social networking, collecting the emails that visitors give you as they arrive at the site and regularly (but not too regularly) sending them emails with tips, fresh exclusive content and sales offers. These emails can be managed and sent through specialized email marketing software such as Aweber, which is highly recommended in the industry.
If you've created a well-designed site, filled it with high quality information, targeted your niche audience well and created something that really entices them, you can use an email marketing campaign for very consistent online business success. In fact, this is why the formula is so commonly used.
However, in order to effectively track your email marketing efforts, you need to keep up with a few select metrics of success and tweak your campaign of mailings accordingly. Let's go over these metrics now.
Ways to track your email marketing success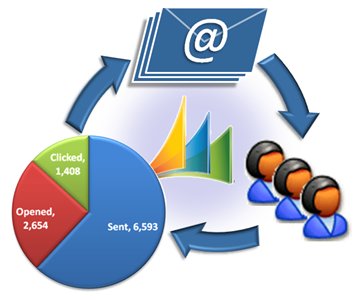 1. Open Rates
Just as its name implies, the open rate of your email marketing campaign is essentially a measurement of how many people open the emails you send them. Open rates are a useful metric of how much initial interest you're generating with your subscriber list and they also tell you how well designed your email subject headings are. However, an open rate does not tell you other crucial factors such as deep interest and by itself a high open rate does not necessarily mean that your campaign is well designed; if your open rate is high but readers don't follow through to raise metrics described below, you've got a problem.
A low open rate may mean that you're not titling your emails enticingly enough to call attention to your messages. To counter this, conduct split tests with differently titled emails and see if you can raise the open rate to an ideal of 35% to 50%. Low open rates could also mean that your readers spam filters are kicking into gear with your messages but this is less likely.
2. Email Subscriber list Size
Again, fairly obvious, this is a figure for the number of people you have on your email subscriber list (the number of people that opted in). By itself a large email subscriber list size is neither a good thing nor a bad thing; what really matters is how well it converts to sales. Since every email you send out as part of your campaign costs you money, having a large subscriber list that is mostly inactive can actually be a drain on resources and a waste of time and effort that needs to be trimmed down.  However, it should be mentioned that having a large subscriber list, especially one that grew to its size rapidly, is a good indicator that you're attracting publicity to your website successfully.
On the other hand, a small but well targeted subscriber list of just a couple hundred emails can be excellent if it converts into sales regularly and well.
3. Click Through Rate
Click through rates are a measurement of how many people are actually clicking on the links inside your campaign emails. If you have a high click through rate, it usually means that you're doing a good job of enticing interest in your email readers and they want to see more before being convinced. However, there are other variables to consider: a low open rate that's coupled with a high click through rate on the emails that do get opened can mean that you're targeting or writing your emails poorly but that the few people who do open them are getting what they're looking for.
Your ideal metric is to have a high open rate coupled with a high click through rate, regardless of your email subscriber list size.
4. Bounce Rate
This email analytics metric comes right after the click through rate; it essentially measures the percentage of people that open your email, click its internal links, land on your link's page and immediately leave (bounce) because they didn't like what they saw. Your bounce rate should ideally be low and coupled with high open rates and click through rates.
If you have a high bounce rate, it probably means that you're either misleading readers in your email message before they click or that the landing page is badly designed and not interesting or engaging enough. If your bounce rate is near 100%, it almost certainly means that you have a serious glitch on your landing page URL. The lower your bounce rate, the better your campaign is targeting your niche market, especially if the low bounce rate is happening in tandem with a high open rate and a high click through rate.
5. Sales Conversion
This is arguably the single most important metric of any email marketing campaign and it measures the percentage of people who actually end up buying what you're offering. If your sales conversion rate is high, it automatically means that your bounce rate is low. Ideally, you'll want a high sales conversion rate that's coupled with high open and click through rates. If all three are occurring on a large email subscriber list, you're doing extremely well in your campaign.
Ultimately, it's far better to have a small list with a maximally high sales conversion rate than to have a large list with few sales. The former means a tightly run campaign while the latter is signaling that you're misdirecting your traffic or doing something to kill reader interest.
6. Email Subscriber List Growth
Quite probably the least important analytics metric of all; your list growth measures the number of new subscribers per fixed period of time. While in the beginning of your campaign it's important to have a high level of list growth rate, you can often later let it level off and, as long as you've targeted your initial subscribers well, depend on them for solid repeat income until your next campaign.
Depending on high list growth rate is only necessary if you're starting sales of something new or not managing your existing emails well and effectively.
Robert Woodford has been writing about email marketing tips for companies like Reachmail for over a decade. Click here to see their website. When Robert isn't writing, you'll find him at home with his family or at the gym lifting weights.